---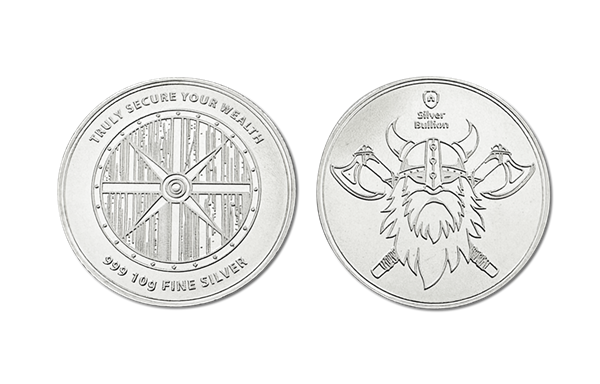 10 GRAMS VIKING SILVER COIN (999)
The designs on these coins are intricately inspired by the Viking Age and feature iconic imagery such as fierce warriors, powerful weaponries, and other significant symbols of Viking culture. These coins not only boast exquisite beauty but also offer a unique glimpse into the past and the rich history of the Vikings.
These Viking coins are an exceptional way to own a piece of history and add value to your collection. Made from 99.9% pure silver, these coins are struck with intricate designs that are meticulously crafted by our in-house team of experts at Silver Bullion and are perfect for bartering or prepping for future financial crises!
HIGHLIGHTS:
Each coin contains 10 grams of .999 Fine Silver.

Each coin has a milled edge, adding intricacy and making it more difficult to counterfeit.

Obverse: A striking Viking shield deeply stamped into the centre with engravings: "TRULY SECURE YOUR WEALTH" and "999 10g FINE SILVER".

Reverse: A majestic Viking warrior with a helmet, surrounded by its Axes, and engravings: "Silver Bullion"

Each coin is lab-tested and guaranteed by Silver Bullion for authenticity and quality.

Purchase 30 pieces to get a free tube.
---
Pricing Details:
Points computation: 1 coin = 0.18 points
Tier
Points required
Price
(MYR)
Price/Gram
(MYR)
Price/oz
(MYR)
Percentage
Over Spot
Buy/Sell
Spread
2
1500
57.56
5.756
179.03
3
3000
57.26
5.726
178.10
4
5000
57.11
5.711
177.63
5
10000
56.96
5.696
177.17