---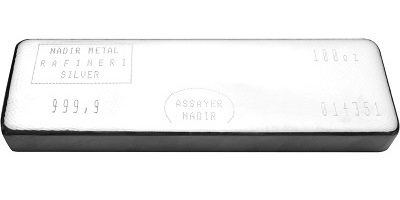 Investment Advantages
From an investment perspective, 100-ounce bars carry a lower premium compared to coins and thus are a favourite among bullion investors. 100-ounce silver bars are also industrial products intended foremost as a storage means and recognized around the world as a trading medium. Hence they are very liquid investments.
Nadir Metal Refinery 100 Ounce Silver Bar
These 100-ounce silver bullion bars are made by Nadir Metal Refinery, one of the most renowned precious metals refiners. These 99.9% pure 100-ounce silver bars are refined and stamped with the "Assayer Nadir" hallmark.
Bars minted in 2015 are guaranteed to be 99.9% pure. In mid-2016, Nadir started refining 100 oz bars of 99.99% purity. The buying and selling rates of these bars, both .999 and .9999, are the same.
Nadir Metal Refinery established in 1967 as Nadir Tütünkü, has refined gold since 1975. It has been known as Nadir Metal Rafineri A.S. since 2006. Nadir Metal Refinery was accredited by London Bullion Market Association (LBMA) in 2011.
S.T.A.R. Storage
Through the S.T.A.R. Storage program, customers can purchase these bars in multiples of five, which are then packed in a transparent, tamper-proof, sealed bag called a 'parcel'.
Please Note: Design may vary from the image shown.
---
Pricing Details:
Points computation: 1 bar = 100.00 points
Tier
Points required
Price
(USD)
Price/Gram
(USD)
Price/oz
(USD)
Percentage
Over Spot
Buy/Sell
Spread
2
1500
2,647.00
0.851
26.47
3
3000
2,642.00
0.849
26.42
4
5000
2,637.00
0.848
26.37
5
10000
2,632.00
0.846
26.32
Storage Fees
Duration
Fixed Storage Fee
Per Bar
Fixed Storage Fee
Per Parcel
6 months
3.39 USD *
16.95 USD
12 months
6.78 USD *
33.89 USD
24 months
13.56 USD *
67.78 USD
36 months
20.33 USD *
101.67 USD
60 months
33.89 USD *
169.46 USD
* Stored in multiples of 5 bars and can be collateralized. Any unused storage will be refunded upon sellback or delivery.