32.15 oz | 1,000 grams | Fine Silver (.999)
As low as
RM 5,894.84
Tier
MYR
Tier 1
5,974.78
Tier 2
5,948.13
+47 coins
Tier 3
5,921.49
+94 coins
Tier 4
5,908.16
+156 coins
Tier 5
5,894.84
+312 coins
Buyback price: 2,165.77
| | | |
| --- | --- | --- |
| Beautiful rare coin with gemstone eyes. | | |
---
This is the low mintage Series 1, 2004 Perth Mint LUNAR MONKEY 1 KILO COLORIZED SILVER with DIAMOND GEMSTONE EYE. Very RARE coin !!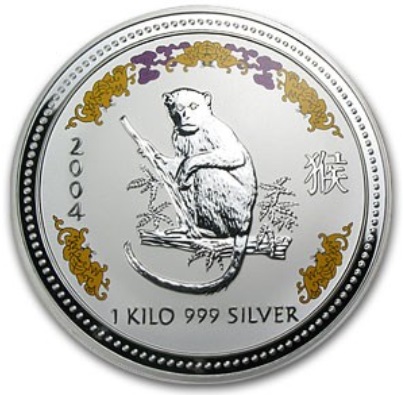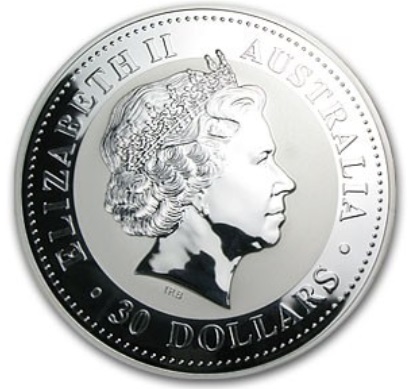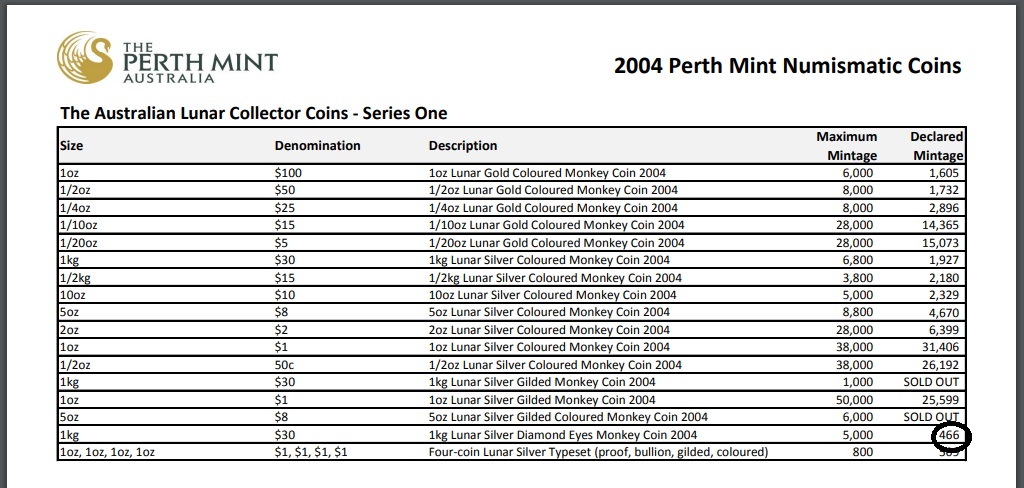 This is the 6th release of the First Perth Mint Lunar Series (12-Coin series).
The coin features a monkey sitting on a tree branch holding a smaller tree limb with leaves around him,
The coin has a coloured border and the Monkey has two .02 carat diamonds for eyes.
The Perth Mint Silver Lunar Coins
The Australian Lunar coin series celebrates Chinese astrology and the Chinese zodiac. The 12-year series features releases marking the Year of the Mouse, Year of the Ox, Year of the Tiger, Year of the Rabbit, Year of the Dragon, Year of the Snake, Year of the Horse, Year of the Goat, Year of the Monkey, Year of the Rooster, Year of the Dog and Year of the Pig. 2004 is the Year of the Monkey.
Australian silver lunar coins are official legal tender of Australia and the finishing, weight and purity are guaranteed by the Perth Mint and Western Australia Government. The obverse features Queen Elizabeth II. As with other Perth Mint coins, the quality is very good and each coin is individually cased in a plastic case instead of a coin tube. Besides their investment value, Perth Mint coins make excellent gift items due to their quality and individual packaging. This item does not come in a wooden box.
About the Perth Mint
The Perth Mint, wholly-owned by the State Government of Western Australia, is the official issuer of the Australian Federal Government's Gold and Silver Bullion Coin Program. The Mint opened in 1899 in response to the discovery of rich gold deposits in Coolgardie and Kalgoorlie. It was Australia's third branch of Britain's Royal Mint - the others being the Sydney Mint and the Melbourne Mint (both closed).
The Perth Mint remained under Britain's jurisdiction until 1 July 1970, when ownership transferred to the State Government of Western Australia.
In 2003, The Perth Mint officially opened an 8,400 square metre state-of-the-art manufacturing facility next door to its original limestone building. Dominating the Mint's heritage precinct, these two important buildings are powerful symbols of more than 100 years of minting excellence in Western Australia.
---
Pricing Details:
Points computation: 1 coin = 32.15 points
Tier
Points required
Price
(MYR)
Price/Gram
(MYR)
Price/Troy Oz
(MYR)
Percentage
Over Spot
Buy/Sell
Spread
1
-
5,974.78
5.975
185.83
2
1500
5,948.13
5.948
185.01
3
3000
5,921.49
5.921
184.18
4
5000
5,908.16
5.908
183.76
5
10000
5,894.84
5.895
183.35