---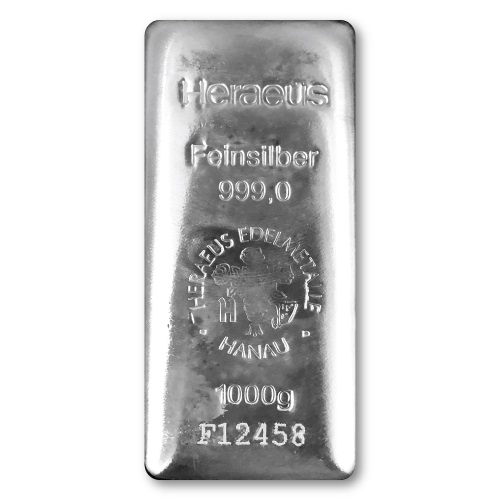 Heraeus 1 Kilo Silver Bar
These 1 kg bullion bars are refined and minted by Heraeus, a globally active Precious Metal and Technology Company which has been family-owned for 160 years.
With a Code of Conduct which defines binding rules for the acceptance of precious metals, Heraeus has committed itself to high standards. Only material from audited mines and suppliers are used in the production of Heraeus bars.
Product Details:
1000 Grams / 32.15 Troy Oz.
Cast Poured (Modern).
.999 Fine Silver Bar.
---
Pricing Details:
Points computation: 1 bar = 32.15 points
Tier
Points required
Price
(MYR)
Price/Gram
(MYR)
Price/oz
(MYR)
Percentage
Over Spot
Buy/Sell
Spread
1
-
3,480.08
3.480
108.24
2
1500
3,451.37
3.451
107.35
3
3000
3,422.65
3.423
106.46
4
5000
3,408.29
3.408
106.01
5
10000
3,393.93
3.394
105.56