---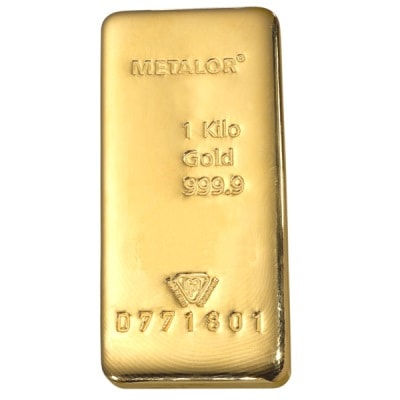 Metalor, a leading international gold refiner and gold bar manufacturer, has its headquarters in Neuchâtel, a historical town overlooking Lake Neuchâtel, about 150 km from Zurich. In 2013, Metalor officially started its refinery operations in Singapore.
Silver Bullion is now selling Metalor gold bars minted in Singapore, evidenced by the hallmark on the bar which has 'SG' stamped in between the recognizable Metalor logo.
These bars are of .9999 purity and are tax-free in Singapore and Malaysia.
NOTE: Photograph is for illustration purposes only. Actual design may vary.
---
Pricing Details:
Points computation: 1 bar = 321.50 points
Tier
Points required
Price
(MYR)
Price/Gram
(MYR)
Price/oz
(MYR)
Percentage
Over Spot
Buy/Sell
Spread
1
-
248,759.91
248.760
7,737.31
2
1500
248,555.99
248.556
7,730.97
3
3000
248,352.06
248.352
7,724.62
4
5000
248,148.14
248.148
7,718.28
5
10000
247,944.21
247.945
7,711.94