---
The Canadian Gold Maple Leaf
The Canadian gold maple leaf is the official bullion gold coin of Canada and is produced by the Royal Canadian Mint. It is one of the purest gold coins of regular issue in the world, with a gold content of .9999 millesimal.
Every maple leaf coin is guaranteed by the Government of Canada for its weight and purity. As a result, maple leafs are extremely liquid, easily bought and sold anywhere in the world where precious metals are traded.
Key Features:
Contains 1 oz of .9999 fine Gold.
Multiples of 10 are packaged in mint tubes. All other coins will be in a protective plastic capsule.
Eligible for S.T.A.R. Storage. 10 of the Gold Maple Leaf coins are packed in the original translucent tube with the Mint's logo stamped on the red cover/cap.
Radial line background was precisely machined by the Royal Canadian Mint onto their master die to create a unique light diffracting pattern, providing another measure of security.
Obverse: Displays a right-facing profile of Queen Elizabeth II, along with the year and face value.
Reverse: Features a large, single maple leaf with the weight and purity. A new micro-engraved maple leaf privy mark shows a "20" when viewed under magnification representing the year 2020.
Dimensions:
| | |
| --- | --- |
| Coin: | 1 Troy Ounce |
| Face Value: | 50 Canadian Dollars |
| Diameter: | 30 mm |
| Thickness: | 2.87 mm |
| Purity: | .9999 |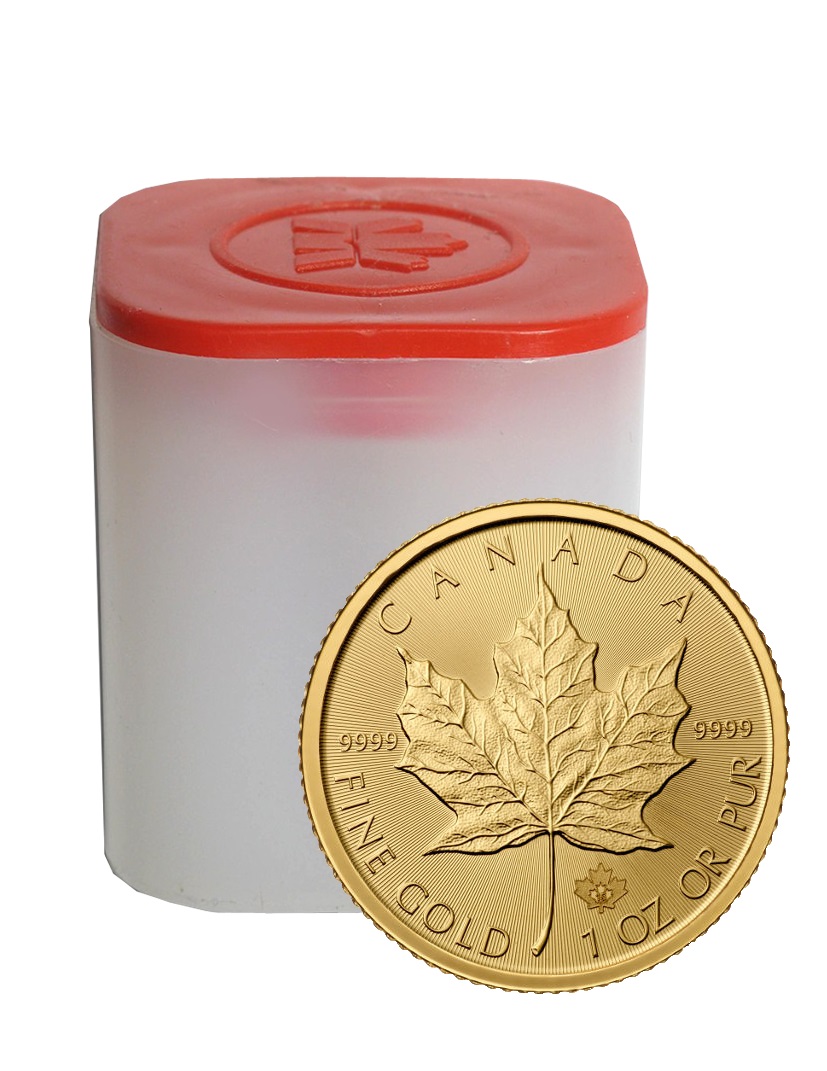 ---
Pricing Details:
Points computation: 1 coin = 6.40 points
Tier
Points required
Price
(USD)
Price/Gram
(USD)
Price/oz
(USD)
Percentage
Over Spot
Buy/Sell
Spread
1
-
1,930.90
62.080
1,930.90
2
1500
1,929.40
62.032
1,929.40
3
3000
1,927.90
61.983
1,927.90
4
5000
1,926.40
61.935
1,926.40
5
10000
1,924.90
61.887
1,924.90