---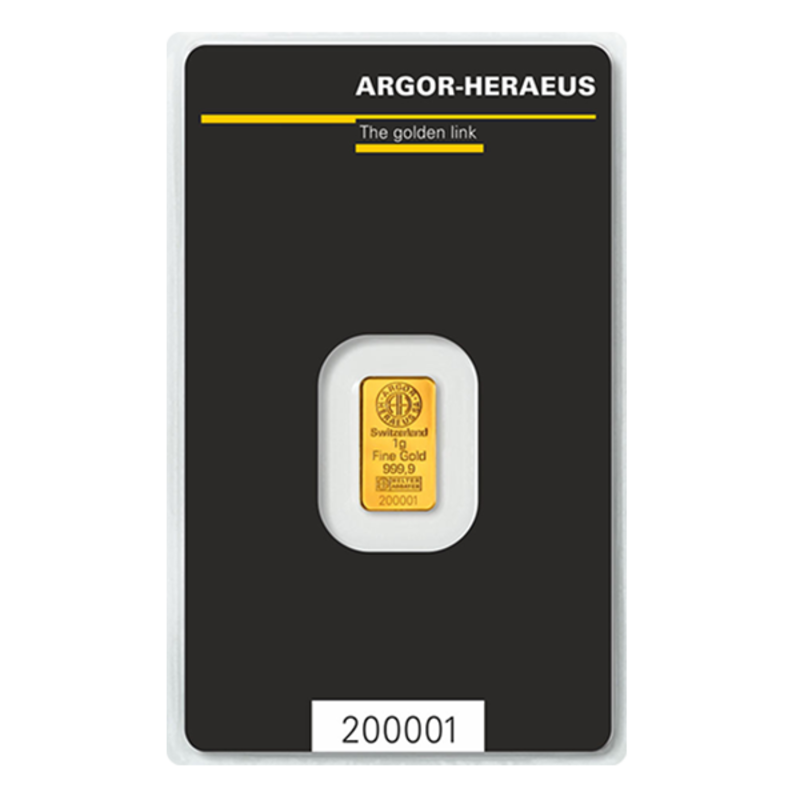 An efficient way to acquire Gold, this Gold Bar from Argor-Heraeus in Switzerland is an ideal choice for investors wanting to increase their Gold holdings. This 1 gram Gold bar is guaranteed .9999 fine and comes to you packed in an assay card that authenticates the Gold metal purity and weight.
Argor-Heraeus is one of Switzerland's and the world's largest precious metals refineries. The Argor-Heraeus refinery is located in Mendrisio in the Canton of Ticino, in Southern Switzerland. This location is very near the Italian border, and also adjacent to the locations of two of Switzerland's other giant precious metals refineries, namely Valcambi and PAMP.
Heraeus, the family-owned German global technology and precious metals refining company bought Argor-Heraeus. Argor-Heraeus operates gold refining and gold bar production facilities in Hanau, Hong Kong, and Newark (New Jersey).
The accompanying assay card lists the weight and authentication of the bar by the assayer.
---
Pricing Details:
Points computation: 1 bar = 3.20 points
Tier
Points required
Price
(MYR)
Price/Gram
(MYR)
Price/oz
(MYR)
Percentage
Over Spot
Buy/Sell
Spread
1
-
335.96
335.960
10,449.54
2
1500
335.73
335.730
10,442.39
3
3000
335.51
335.510
10,435.54
4
5000
335.29
335.290
10,428.70
5
10000
335.07
335.070
10,421.86