1 oz | 31.1 grams | Fine Silver (.999)
As low as
RM 94.22
Tier
MYR
Tier 1
96.75
Tier 2
95.91
+1,500 coins
Tier 3
95.07
+3,000 coins
Tier 4
94.65
+5,000 coins
Tier 5
94.22
+10,000 coins
Buyback price: 78.43
| | | |
| --- | --- | --- |
| Imported beautiful Art rounds. Comes in a capsule. | | |
---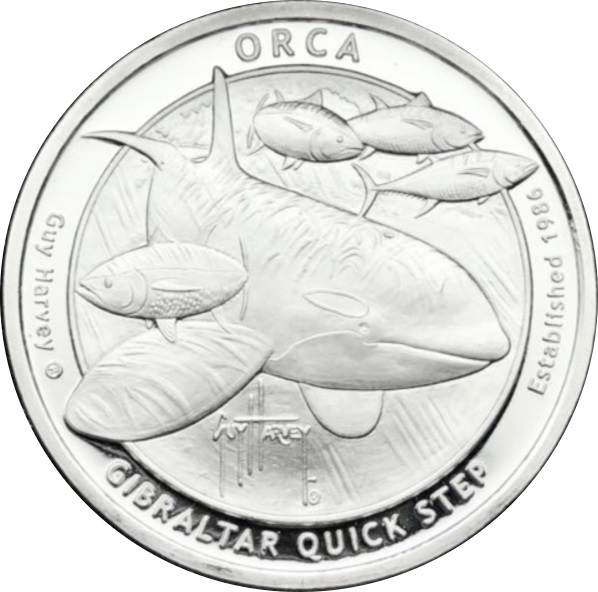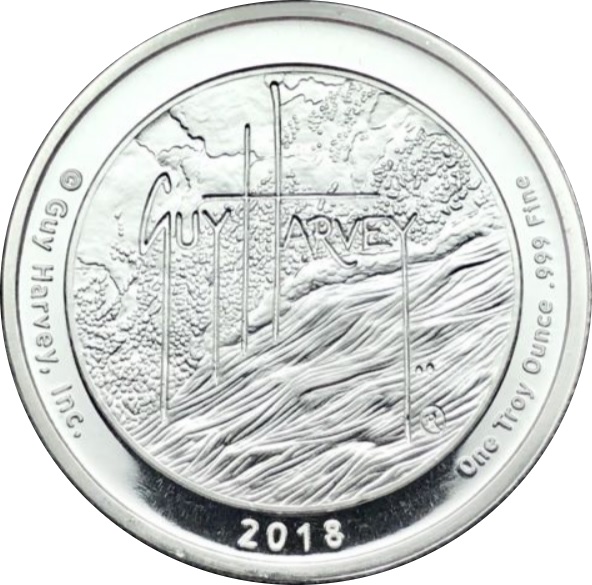 https://en.wikipedia.org/wiki/Guy_Harvey
This exclusive series of silver rounds feature artwork from the legendary Guy Harvey, the 2018 Guy Harvey© Orca 1 oz Silver Proof Like Round offers yet another great image from the artist's Gibraltar Quick Step prints. Struck from .999 fine silver, each of these silver rounds contains a total of 1 troy ounce of pure silver. Another great way to join Hammerhead Nation!
The inspiration for the artwork behind this round is the population of orcas that have taken up residence in the Straits of Gibraltar. The bluefin tuna conduct a major migration into and out of the Mediterranean Sea through Gibraltar, where they doubtlessly swim with the orcas.
The front side shows the beloved Orca whale as it maneuvers through the ocean, having just dived beneath the surface. It is flanked on each side by a group of Bluefin Tuna while rays of light shine through the water. The unmistakable Guy Harvey signature appears below the Orca. Around the outer rim, which features a proof-like finish, the legend "ORCA" runs along the top rim, with "GIBRALTAR QUICK STEP" appearing at the bottom rim. The Guy Harvey trademark is found against the left rim, while "Established 1986" is inscribed along the right rim.
The design on the back side of the round features a larger representation of Guy Harvey's famous signature in larger text. It is overlaid on top of a scene of the ocean water flowing against a rocky shore. "© Guy Harvey, Inc." is placed against the rim to the left, followed by the year-date "2018" at the bottom rim. The technical specifications for the weight and purity "One Troy Ounce .999 Fine Silver" are inscribed along the rim to the right. The edge is reeded.
These 1-ounce silver rounds make great gifts and feature the amazing quality of proof-like surfaces.
---
Pricing Details:
Points computation: 1 coin = 1.00 points
Tier
Points required
Price
(MYR)
Price/Gram
(MYR)
Price/Troy Oz
(MYR)
Percentage
Over Spot
Buy/Sell
Spread
5
10000
94.22
3.029
94.22