1 oz | 31.1 grams | Fine Silver (.999)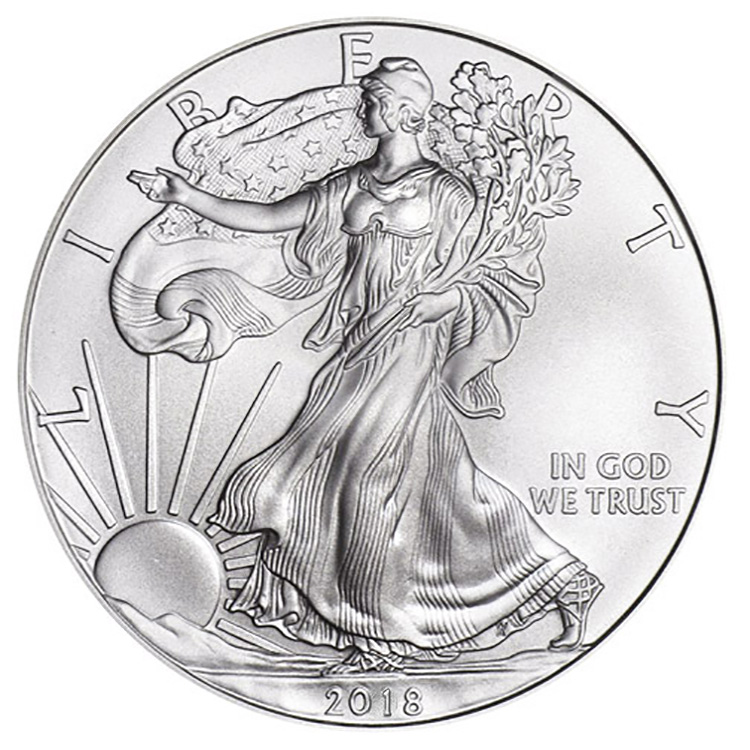 As low as
RM 100.62
Tier
MYR
Tier 1
103.14
Tier 2
102.30
+1,500 coins
Tier 3
101.46
+3,000 coins
Tier 4
101.04
+5,000 coins
Tier 5
100.62
+10,000 coins
Buyback price: 77.17
---
About the American Eagle
The American silver eagle is the official silver bullion coin of the United States. It was first released by the United States Mint on November 24, 1986. It is struck in the one-troy ounce size which has a nominal face value of one dollar and is guaranteed to contain one troy ounce of 99.9% pure silver. Its content, weight, and purity are certified by the United States Mint.
The design on the coin's obverse was taken from the "Walking Liberty" design by Adolph A. Weinman and is inscribed with the year of minting. The reverse portrays a heraldic eagle behind a shield and thirteen five-pointed stars along with the inscribed phrases "United States of America" and "1 OZ. FINE SILVER ~ ONE DOLLAR". The definition of "FINE SILVER" is 99.9% silver purity and the "ONE DOLLAR" denotes legal tender.
American eagle silver bullion coins have become the world's best-selling silver coins and are easy to buy and sell at most coin and precious metal shops.
American eagle coins come in tubes of 20 coins. We sell in multiples of 20 for this reason.
500 Coin Sealed Monster Box
American Eagles are packaged by the mint in green reinforced plastic cases called "Monster Boxes". Monster boxes are sealed at the West Point Mint Facility (nicknamed "The Fort Knox of Silver"), which mints and packages all American Eagles. Sealed monster boxes allow for a faster and easier resell process and contain 25 tubes of 20 American eagles each for a total of 500 coins.
Multiples of 500 coins per order will be delivered as sealed monster boxes.
S.T.A.R. Storage
Through the S.T.A.R. Storage program, customers can purchase a sealed monster box, which is packed in a tamper-proof, transparent bag called a 'parcel'. Each parcel is assigned a unique seal number.
Price relevant: The premium over spot for American eagles increases when the US Mint raises dealer prices due to high demand. Our discounted price starts at tier 1, so if you purchase 500 ounces - a monster box - you will enjoy discount tier 1 or higher.
Dimensions: Monster box dimensions - 38 cm long, 22 cm wide and 11 cm tall.
---
Pricing Details:
Points computation: 1 coin = 1.00 points
Tier
Points required
Price
(MYR)
Price/Gram
(MYR)
Price/Troy Oz
(MYR)
Percentage
Over Spot
Buy/Sell
Spread
2
1500
102.30
3.289
102.30
3
3000
101.46
3.262
101.46
4
5000
101.04
3.249
101.04
5
10000
100.62
3.235
100.62