0.32 oz | 10 grams | Fine Gold (.9999)
As low as
RM 2,242.42
Tier
MYR
Tier 1
2,250.54
Tier 2
2,248.51
+467 bars
Tier 3
2,246.48
+934 bars
Tier 4
2,244.45
+1,556 bars
Tier 5
2,242.42
+3,111 bars
Buyback price: 2,059.62
---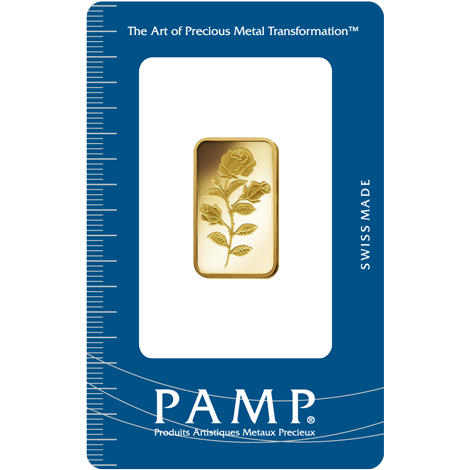 The PAMP Suisse gold bar contains 10 grams of .9999 fine gold. Its tamper-evident packaging makes it easy to tell if the bar has been questionably handled, further ensuring its authenticity.
The minted PAMP gold bars are available in three popular designs; the Lady Fortuna, Rose and the Statue of Liberty. We carry different PAMP designs and editions which may vary from the thumbnail preview due to stock availability. All three designs are produced using PAMP's same consistent high skill standards.
A classic and widely popular PAMP design, the Rose is the most prized and beautiful of all flowers - the ideal choice to enhance the inherent beauty and value of precious metals while the Lady Fortuna design, depicts the Roman goddess of fortune and luck.
Printed on its reverse is the weight and purity along with a unique serial number.
NOTE: The photograph of the bar displayed may slightly differ - in terms of design - from what you take delivery of.
---
Pricing Details:
Points computation: 1 bar = 3.22 points
Tier
Points required
Price
(MYR)
Price/Gram
(MYR)
Price/Troy Oz
(MYR)
Percentage
Over Spot
Buy/Sell
Spread
1
-
2,250.54
225.059
7,000.12
2
1500
2,248.51
224.856
6,993.81
3
3000
2,246.48
224.653
6,987.50
4
5000
2,244.45
224.450
6,981.18
5
10000
2,242.42
224.247
6,974.87